Graham Paige Car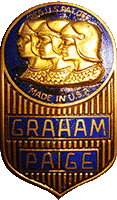 I'm the proud owner of a restoration-in-progress 1929 Graham-Paige model 612.
"Ginger" as my wife and I call her, was purchased April 28th, 2011 and she is slowly undergoing the transformation from rusting hulk to gleaming restoration.
For more details and photos of the car, visit my other site: grahampaigecars.com
If you want more information about Graham Paige cars, I suggest you visit the official Graham-Paige Owner's Club website at www.graham-paige.com.