Holmes Haunted Homes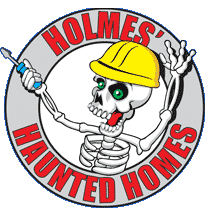 From 2008 to 2015, I operated Holmes' Haunted Homes; a high quality "animatronic" Halloween show combining robotics, music, video, and physical effects. The shows were fully automated and fun for everyone. We never used blood, gore, or horror in our shows so they were suitable for all ages.
The spectacular 2013 robotic show featured our skeletal superstars led by Cap'n Soggy Bottom and his crew. We showcased more characters, more animation, more music, and more fun than ever before! As with all our shows, "Pirates of Niagara" was a family friendly event with no blood, gore, or intense scares. We believe that Halloween entertainment should be lighthearted and fun for all.
Video of the 2013 Show – Pirates of Niagara:
Video of the 2011 Show – Ghosts & Gangsters of Old Chicago:
Video of the 2010 Show: In Concert with Boney Bennett
The St. Catharines Standard website 2013:  Halloween 2013 in Niagara this Week: Halloween 2013 on the CBC website: Halloween 2011 in Niagara This Week: These bones can swing. After spending months working on it, St. Catharines resident Geoff Holmes is preparing to launch his 2011 Halloween display, Ghosts and Gangsters of Old Chicago, Saturday through Monday […]